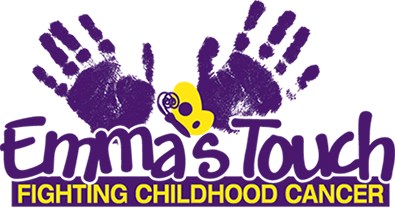 "Spunky and outgoing. She never complained, and hardly ever, ever cried." That is how Karen Vannatter describes her daughter, Emma, a little cancer fighter who was diagnosed with leukemia at the age of 16 months. Giving one example, Vannatter recalled Emma's response to a painful dressing change: "She never cried; she put her hands behind her head and just kind of had a 'go with the flow' attitude, when other kids weren't so cooperative." Emma never lost her spirit through the year-long battle. Vannatter shared, "She gave us a different look on life. You're going to have adversities but you have to learn how to deal with them and just bounce and keep going."
After Emma's passing, Karen and her husband Charles wanted to continue to help children fighting childhood cancer. They established Emma's Touch, in Emma's honor. They knew the non-profit needed a website, so tried to create one using a free internet service. "It just did not look professional the way that we wanted it to. We're not designers or tech people by any means," Vannatter admitted. Upon a recommendation from Brett Wilson from Walking Miracles, the Vannatters contacted Bricks Without Straw.

Using appealing graphics, rotating banners, and attractive coloring, Jamie built a site that Vannatter says is much more professional looking. "He was able to put drop down tabs where we wanted them and how we wanted them; he was able to put links." He provided a "variety of options that we just didn't have the knowledge base for." Asking open-ended questions, Summers-Brown also took the time to discover what Emma's Touch wanted, "instead of just leading where he wanted."

Turning responsibility for the Emma's Touch website over to Jamie and his staff has been a tremendous help to the Vannatters. "Having somebody who does this for a living and who has people in his office . . .has taken a huge load off of our responsibility list."

Immediate Results

The site launched in September (2013), which is also National Childhood Cancer Awareness Month. As television and radio public service announcements hit the air, Vannatter noticed a considerable increase in traffic. "We've seen more verbal comments, such as 'I was able to get some resource information,' or, 'I got the facts sheet.' It (the website) is just easier to navigate than what we had. And then, from there, we've seen more traffic on our Facebook page." The link between the website and Facebook is another new feature that Vannatter particularly likes.
Having somebody who does this for a living and who has people in his office . . .has taken a huge load off of our responsibility list.
Benefits of Experience

Jamie's marketing knowledge has benefitted the organization in other ways, too. Bricks Without Straw created a tear-off flyer for Emma's Touch, with BWS suggesting content and designing it, then printing the final product that includes an attached, perforated business card. It is information potential supporters are more likely to keep, as opposed to a full-sized brochure.
Having worked with several non-profits, Jamie was able to offer cost-saving suggestions to Emma's Touch, as well. "(He'd say), 'Because you are a non-profit you might want to think about x, y, or z instead of (another way).' That was helpful."

Patient

While Karen Vannatter appreciates the technical experience that Jamie brings to the table, there is a personal characteristic that she greatly appreciates, too. "He's very, very patient. He's been very easy to work with, not being pushy" and demanding things by a certain time. "He's just been very accommodating. We're very, very pleased and happy that we were able to get on board with him."